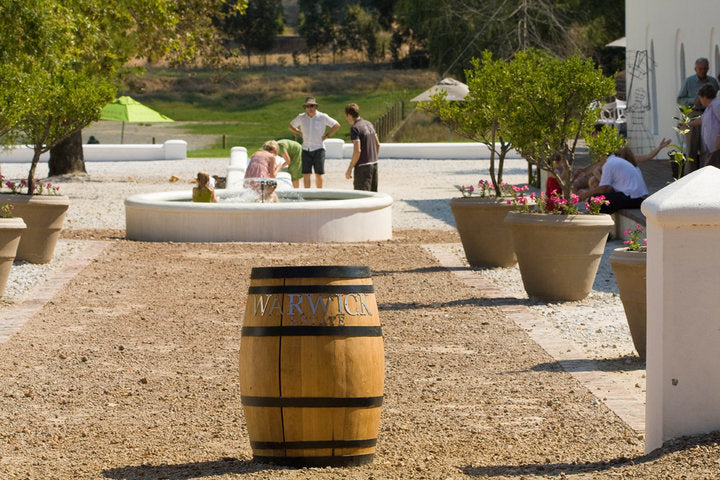 Warwick
Warwick is situated in the foothills and mid-slopes of the Simonsberg Mountain, with altitudes ranging from 240 to 360 metres above sea level, the estate carries all the elements required to make world-class wine.

It's clear that Warwick view their wines as the result of interplay between man, vine, and environment. It's this cognisance of our environment that leads them to talk rather of our heritage, as opposed to simply 'history'. Because heritage is not just a snapshot of the past; it's a responsibility carried into the future. They feel that what stands here today is something inherited, and therefore something to be nurtured and protected for the generations of friends and family that come after them.

Warwick is all about family. There are few things they cherish more than helping friends and loved ones create lasting memories. The estate caters to events, weddings, celebrations, and team-building outings that balance our trademark laidback atmosphere with luxury cuisine…and, of course, award-winning wines. To enquire about hosting a special event with Warwick, email visit@warwickwine.com

VINEYARD SAFARIS!
Great wine is made in the vineyards. Which is why trained safari guides will show you where the magic happens. Groups of up to six can enjoy an open-top tour through the 'big five' vineyards (the grapes, not the animals), with drinks along the way. It's also great for families, as the tour includes non-alcoholic drinks and artisanal ice-cream.
Browse our cases of Warwick Wine available for purchase now.