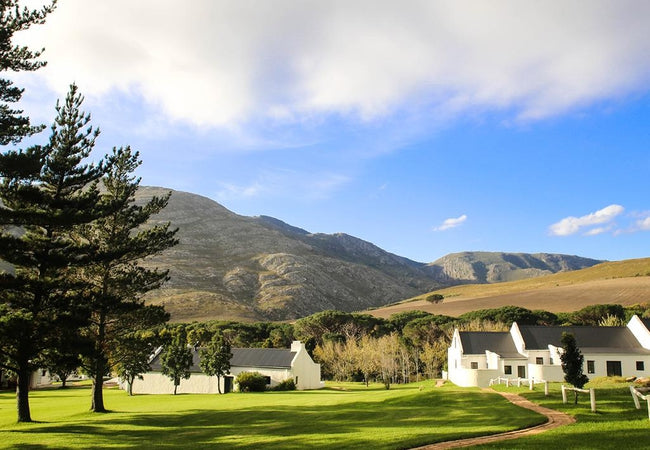 Raka
Piet Dreyer was a fisherman all his life. As a child, when he was about 16 years old, his father was seriously injured in a motorcycle crash and he helped his mother to support the family by catching fish over weekends and after school on a friend's fishing boat. The sea and fishing remained his passion and he grew from ski-boat owner to freezer-vessel owner and the "kaalvoet (barefoot) skipper" on his vessel Raka became well known amongst the squid fisherman.
Because of the squid squirting black ink all over the boat, Piet decided to have himself a black freezer vessel built, so that he need not repaint that often, and called it RAKA. (From the Afrikaans poem by N.P. van Wyk Louw, about an African tribe being threatened by Raka, half man half beast and as black as the night). He took this name as his brand when he ventured, with equal passion, into winemaking - hence the slogan: born of the sea, guided by the stars, blessed by the earth.
More on our wines & their names

Our top wines are:
Biography Shiraz
Figurehead

 

- (the figurine on the bowsprit of old sailing ships mostly a female or mermaid) a Cape Blend of Cabernet Sauvignon, Merlot, Cabernet Franc, Pinotage Malbec and Petit Verdot.
Quinary  - (meaning consisting out of five) Bordeaux style blend of Cabernet Sauvignon, Merlot, Cabernet Franc, Petit Verdot and Malbec. Cabernet Sauvignon based, the composition may vary slightly from vintage to vintage as we always strife to make the best possible blend. The Quinary is also available in Magnum size (1.5 liters) and bigger bottles.
Barrel Select Merlot

 

- Single variety Merlot blended from a selection of the best barrels of the vintage.
Limited Addition – These wines are bottled in limited quantities and only vintages when quality is outstanding:
Petit Verdot
Malbec
Cabernet Sauvignon
Cabernet Franc
 Mid-range:
Pinotage
Sangiovese
Sauvignon blanc
Raka Luxus Collection
Another of Piet Dreyer's dreams fulfilled. The Luxus Collection is a luxury collection of 6 wines from different vintages in a wooden box. It consist out of one bottle of Raka Quinary and one each of its 5 components in single varietals.
Browse our cases of Raka wine available for purchase now.