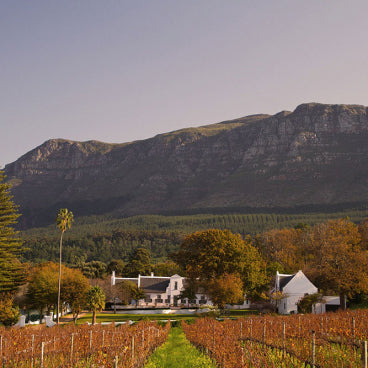 Klein Constantia
Described as one of the world's most beautiful vineyards, Klein Constantia is set amidst ancient trees and lush greenery on the upper foothills of the Constantiaberg, with superb views across the Constantia Valley and False Bay.

Klein Constantia's 146 hectare estate originally formed part of "Constantia", a vast property established in 1685 by Simon van der Stel, the first governor of the Cape. This particular valley was chosen not only for its beauty, but also for the decomposed granite soils on its slopes, gently cooled by ocean breezes.

The soils originate from granite formed up to 600 million years ago and can be divided mainly between deep fertile Oakleaf on the lower slopes and drier Glenrosa with a saprolite subsoil higher up. This well-drained, fertile, decomposed granite with high clay content ensures good water retention during the long, dry summers of the Cape, when enough water slowly drains back into the vineyards to ensure an effective leaf canopy and proper ripening of the fruit.

The unique location, climate and soils of our estate call for the making of terroir-driven wines, and it is to this principle that we are deeply committed. Simple winemaking techniques are used to extract the best from grapes grown in expertly nurtured vineyards to make consistently excellent wines that express elegance, minerality and balance.
Browse our cases of Klein Constantia wine available for purchase now