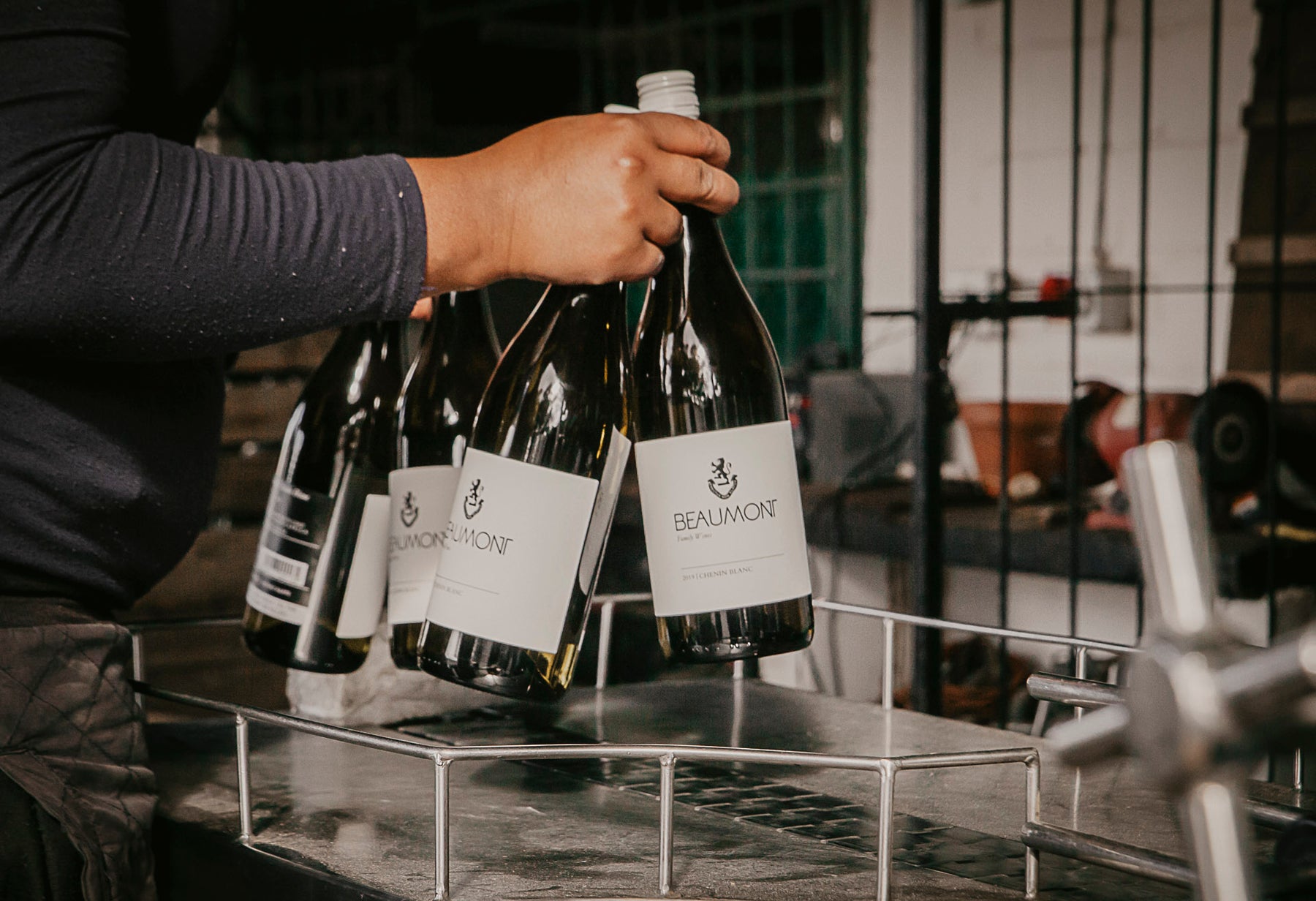 Beaumont
Beaumont is a family-owned and managed farm situated in the heart of the town of Bot River ("Botter Rivier") in the Overberg.
The farm, home to the region's oldest wine cellar, was originally established in the 1700's by the Dutch East India Company. In the 1940s the wine business was initially started but wine production was discontinued in the late 1960s.
Jayne and Raoul Beaumont bought the farm Compagnes Drift in 1974 and set about replanting the vineyards. However, the legacy of creating wines in the farm cellar under the family name was only initiated years later.
Since then the wines have borne the crest of the Beaumont family. Originally found in the family signet ring, the roaring lion represents honour and courage and serves as a symbolic message of balance – a quality synonymous with our wines. The crest pays homage to our roots and represents the connection between farmland and family. It finds expression in our brand and personifies a place of passion, simplicity and charm.
After generations of farming and partnering with nature, the land now offers some of the finest vineyards in the area. Together with a non-conformist approach to winemaking, these vines produce notably balanced, classical and artisanal wines. The farm also grows pears, almonds and olives surrounded by fynbos and abundant birdlife. It still supplies produce to visitors wanting fresh pears, apples, almonds and delicious olives. Beaumont Family Wines are proud members of the IPW, Global Gap and the BWI initiatives that encourage and support sustainable farming.
The historic farm offers quintessential Overberg architecture with barns and homesteads authentically white washed with black tin-roofs. Two of the original buildings have been beautifully restored as quaint self-catering cottages and the farm is home to one of the oldest working watermills in the country.
Overlooking the original cellar and homestead is a sloping wheat field, which is harvested ceremoniously in the annual Field to Loaf festivities. The grains are then milled on the farm producing sought after stone-ground flour.
Our story is one where family, fervor and farming merge - where wine, food and people are always at the centre of the narrative. This is our story and we invite you to be part of it.
Browse our cases of Beaumont wine available for purchase now.